Disclaimer: This Project Funded by the European Union. Views And Opinions Expressed Are However Those of the Author(S) Only and Do Not Necessarily Reflect Those of the European Union or The European Education and Culture Executive Agency (EACEA). Neither The European Union nor EACEA Can Be Held Responsible for Them.
Brand Statement of CARE Project
" Shaping The Lives Of Our Children "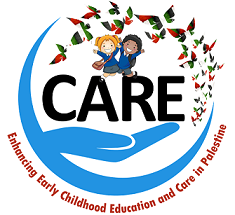 The first six years of a child's life represent a period of significant change, achievement and development that can provide a strong foundation for the rest of the child's life.
Early Childhood Education and Care (ECEC) project will form a strong foundation for success in later life in terms of education, well-being, employability, and social integration. It is important for children from disadvantaged backgrounds in particular.
In order to achieve more cohesive, consistent and quality professional services, the public authorities have committed to provide their support to facilitate sustained care and education provision.
Palestinian universities, concerned agencies, ministries and the European Commission are working together through CARE project to develop and sustain early childhood education and care services in Palestine which will be benchmarked to international and European standards and guidelines.